You remember the Marquee on Gottigen.  You were there once.  Likely more than once. Maybe you saw Matt Mays…or was it Jenn Grant…or Kilt…or The Arkells…or In Flight Safety.  There have been so many great shows at the Marquee, that it is hard to remember just one.  But you were there.  And you loved it. 
Well, the Marquee is re-opeining!
This weekend is the Marquee Ballroom Grand Opening with 2 fantastic shows: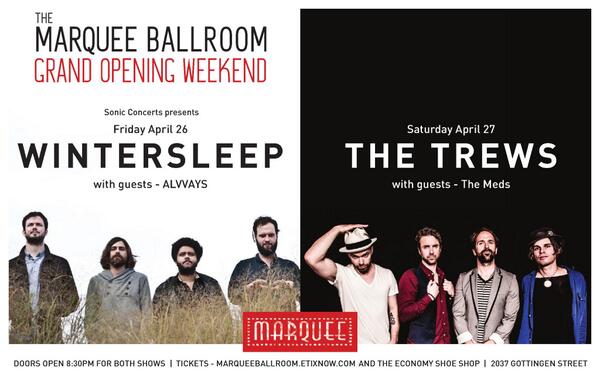 Friday April 26 features Wintersleep, with guests Alvvays (featuring Molly Rankin). Saturday April 27 features home-grown heroes, The Trews, with guests The Meds.
Wintersleep and The Trews are among the hottest East Coast bands today.  
The Trews
Since seeing them perform as One I'd Trouser, I have seen The Trews live on many occasions (including New Glasgow Riverfront Jubilee, Rock The Dock in Sydney, and their recent acoustic show at the Rebecca Cohn).  They are one band that I will always go to live if I am in the area. Period!  No qualification.   If The Trews played 3 nights in a row and I was in the city, I would be at every show.  They bring full energy every night.  One of the best live acts I have ever seen. 
Wintersleep
After many years of being a fan, I finally got the opportunity to see Wintersleep at the most recent Halifax Pop Explosion.  It was an excellent show.  Playing effortlessly through the set, this tight-knit group of friends let the music speak for itself.   Now they return to Halifax after a long, long tour playing songs from Hello Hum (one of my favourite albums last year) and many more favourites.
This is a great weekend to be in Halifax. 
Congratulations to local music supporter (and Marquee owner) Victor Syperek on the re-opening.  It was well worth the wait.
Tickets to both shows are now available via

etixnow.com

.